4 Advantages of WhatsApp Business API you can't miss!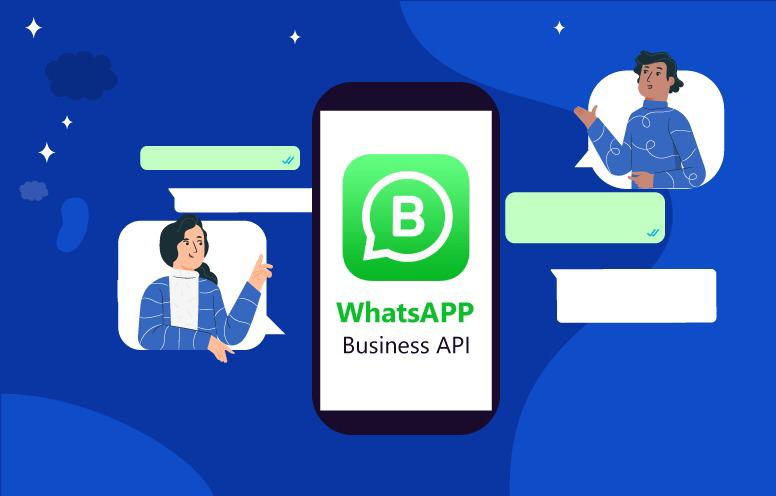 4 Advantages of WhatsApp Business API you can't miss!
4 Advantages of WhatsApp Business API you can't miss!
Looking for an easy and quick way to communicate with your customers? Are you tired of traditional ways to market your services and products! Maybe you want the easiest way to manage your customers' messages and marketing campaigns, don't you? You won't get tired of searching anymore, after a lot of research and attempts, companies have come up with the perfect solution for marketing and communication with customers, namely WhatsApp Business API!
Yes, it's that smart app that gives you easy ways to manage your customers' conversations, flexible marketing of all kinds of different services and products, across one advanced platform, and an easy-to-use interface, if you think dear reader that marketing and its methods are a little complicated, that service will completely deny that thought! It is a sophisticated version of traditional WhatsApp, designed accurately and intelligently to provide all the tools and methods that entrepreneurs and business owners can need, designed specifically to send, and receive all customer messages from everywhere on the company or organization number, and allows the ability to use several employees for the same number without any problems or obstacles!
It is simply an application designed for business, it is a commercial account for businesses and companies to help them manage their business, marketing their products and services, and communicate with their customers easily, and it features a range of characteristics and benefits indispensable to any business, which prompted hundreds of companies to get their account on that app only to get those infinite advantages, and we will remind you of some of them in the next paragraphs, let us!
The first feature is the ability to link your WhatsApp Business API account to your unified number
One of the first advantages you can get when you get your company's account is that you can link it to your unified number, which gives you a lot of benefits:
Connect all your branches to one number and one WhatsApp account
Easy to receive all your customers' calls and conversations with the same number
No customer distractions between more than one WhatsApp account
Get the benefits of the unified number and WhatsApp business API at the same time
Access to reports on the details of all conversations
Achieving easy and fast communication and strong marketing campaign management
For more details about the unified number 9200 from Bevatel from here.
The second feature we'll meet is countless users and messages
Through WhatsApp Business API, all your employees will be able to use the same account from the same number, and your employees will also be able to receive an infinite number of customer conversations from anywhere in the world, there are no limits to any number of users or any number of messages, it is a specially designed application for business owners and companies with multiple branches to make it easier for them to communicate with their customers, as well as to facilitate the work of their employees.
We come to the third advantage which is connecting social media channels
Perhaps one of the most important advantages we can see on the ground is the possibility of connecting WhatsApp Business API to all social media channels, such as Instagram, Facebook, Telegram, and other social media platforms, all of which you can control with one easy-to-use interface, and a hub Only one to be able to gather all your customers' conversations in one platform, so you will be able to follow customers, interact with them, solve their problems and identify their needs, and will help you, in particular, to manage successful marketing campaigns across all these platforms, follow their developments and improve them according to responses verb.
It doesn't stop at the advantages of this smart service, but it comes down to the multiplicity of uses that have built new bridges of communication and created modern methods to enable companies and institutions to easily reach their customers, and manage their business with ease, and we can mention the most important uses in the next paragraphs, so don't miss reading dear visitors.
We can divide the basic uses of WhatsApp Business API into three basic sections:
WhatsApp to manage and organize the company
Manage and organize sales
Whats App API to manage customers relations

First: WhatsApp Business to manage and organize the company:
Many companies may use this service to facilitate the management and organization of the team and employees, as well as to organize the company's workflow, one of its most important uses:
Select specific employees to access the account.
The ability to plan, schedule, and select tasks for each employee.
Measure and analyze staff performance.
Hire an employee for each conversation that concerns potential customers.
The possibility of speaking directly to employees via profile.
The ability to view employee conversations with customers to assess their performance.
The possibility of determining employees' working hours to respond to customer conversations.
The possibility of determining the working hours of the chat robot when employees are busy or during holidays.
You can follow all buy and sell by reviewing conversations.
The ability to monitor everything that is done through the WhatsApp Business account. 
Second: WhatsApp API to manage and organize sales:
We come to the second use of this service, which is one of the most important uses that various business activities may resort, it helps managers and officials to manage the sales and purchase processes, maintain continuous follow-up, in addition to obtaining accurate analysis to assess the situation, one of its most important uses:
Helps develop and organize different sales processes.
The ability to follow all stages of buying and selling.
Complete sales with customers through instant chat.
The automatic response can be turned on to complete sales.
Create profiles for potential customers individually.
WhatsApp can be linked to CRM to facilitate sales management.
The ability to manage all sales operations from the company's various platforms.
Shaping products and services according to what customers need.
The possibility of limiting all products by linking WhatsApp to store management.
Get reports for all details of the buy and sell, profits, and losses.
Third: WhatsApp Business API to manage customers relations:
The primary objective of any company's use of this service is to communicate well with its customers and ultimately achieve customer satisfaction, which prompted most businesses to choose that service, one of its most important uses:
Follow the customer's journey from the beginning of his interest in the company to the purchase of the product or his subscription to the service.
Achieving constant and continuous interaction with potential and current customers.
Create easy communication with customers and faster.
Permanent presence with customers through the chatbot.
The ability to intelligently identify potential customers and data.
The ability to create a profile for each client.
Connect the account to all social media and email platforms.
Follow existing customers and develop products and services to suit their needs.
The possibility of forming private or public conversation templates to chat with customers.
The ability to measure customer satisfaction with the service provided and customer service. 
These are some of the uses and benefits you'll get when you get a Bevatel WhatsApp Business API, so if you want to learn more about how to organize your business and manage your sales, and how you succeed in winning new customers, feel free to contact us for your free consultation now.