8 uses of chatbot for business activities for 2021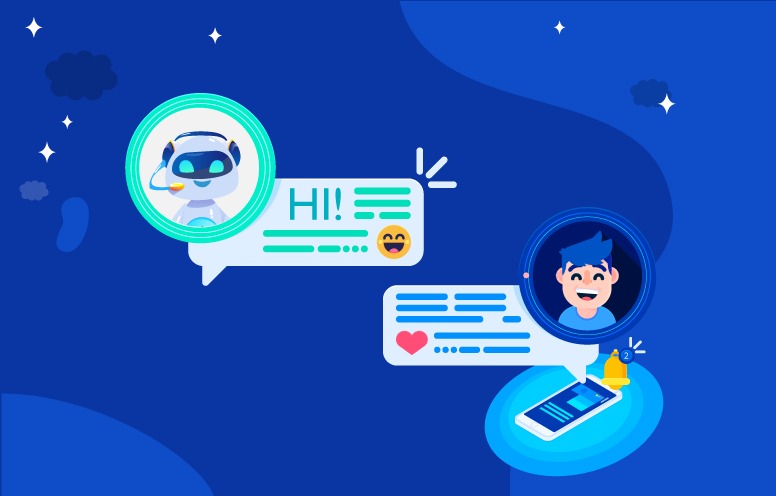 8 uses of chatbot for business activities for 2021
8 uses of chatbot for business activities for 2021
Chat Bot or Conversation Robot was the result of the modern revolution in the world of communications, companies have always looked for a way to help them save time and effort in communicating with their customers and responding to their endless queries and questions, it is a new technology that is still in the process of modernization and we continue to see many benefits and uses that have increased the level of companies and institutions, and even played a major role in improving the customer experience and strengthening and growing their relationships with companies and business activities.
Perhaps one of the most frequently asked questions in the minds of our dear visitors is "What is a chatbot and how does it work? What are its uses or benefits for my project or company?! "We'll answer those questions in the next paragraphs in detail, so don't miss that fun reading and follow us to the end!
What is a chatbot or conversation robot? And how does it work?
Chatbot or as it is known as a smart reply or automated reply, is an interactive digital technology, which does the same work like the real human being it is a semi-real simulation that helps complete tasks accurately but faster, and there are many examples that we can mention, the most famous of which is chatbot famous as Seri or Google Assistant, for example, but it interacts with writing and not talking or speaking, a sophisticated system that helps companies respond to all conversations and messages of their customers Automatically through replies or messages recorded according to custom or public templates predetermined according to the objectives and purposes of each business.
It is a smart robot that performs more than one job at the same time without breakdowns or barriers, through which startups can identify and track their potential customers and attract new customers, and with that smart response you will be able to respond to all their customer conversations automatically, whether directly from WhatsApp or by collecting all customer messages from all social media platforms such as Telegram, Facebook, Twitter, Viper, Skype or email and others, and certain appointments can be set depending on your employee's working hours, Or the working hours of the chat robot when your employees are busy or off-duty and on holidays, and you can even schedule messages to be sent on specific dates with responses or messages recorded according to custom or public templates and in an infinite number, allowing you to maintain constant, continuous and interactive communication with your customers to improve and enhance the customer experience and ultimately gain their trust and affiliation.

What are the uses of chatbot for 2021?
There are a lot of indispensable uses of Chatbot for any business, it's a smart technology that allows it to be used for all kinds of small or large companies, or if they target potential customers or even existing customers, through which chatbot can perform dozens of tasks without delay or errors! This has made it the modern means of communicating with and satisfying customers, and in the coming paragraphs we will explain 8 of the most important uses of chatbot in the field of marketing and sales, including:
Receiving customer messages
Split customer segments
Answer questions and inquiries
Solving customer problems
Receiving orders
Convincing customers
Follow-up sales
Marketing campaign management
1- Receiving customer messages
One of the most important uses of a chatbot is to receive different customer messages, it collects all your customers' messages from different social media platforms or your site, through which you will be able to form professional responses for each customer, and you will even be able to convert each customer according to the purpose he needs, and we can view a simple example:
One customer sends a message to complain: "Good evening, is there anyone I can talk to?"
Chatbot will then welcome him and find out the reason for the conversation: "Welcome, I'm the answering machine ready to help you, you can choose one of the following sections and you will be transferred to the relevant section"
A list of available sections is then displayed so that the customer can choose from the" 1. Sales Section / 2. Orders and returns section / 3. Complaints and Proposals Section"
Then the client sends the number "3" for the department he wants.
Here, the customer conversation will be automatically transferred to a customer service representative who specializes in complaints.
2- Split customer segments
Also, distinctive use of Chatbot is to divide and target customer segments, through customer messages determined by the purpose of the conversation if it is an interested, potential, or prospective customer, or if it is among the current customers or is a permanent customer of your company, and you can even determine whether the customer is an angry or happy customer, by limiting the number of complaints received through your networking channels, and this can be easily identified through templates that are formed when activating chatbot, and you can benefit from identifying customer segments afterward by targeting these customers within the goals of your marketing campaigns.
3- Answer questions and inquiries
It is one of the common uses of Chatbot, it allows you to select FAQs with their answers to respond to customers better and faster, and helps you save time and effort on the customer service team, especially in cases of marketing campaigns, often abound similar questions about the products or services provided, making chatbot an ideal solution to answer all those queries simultaneously quickly and easily.
4- Solving customer problems
With this smart robot, you will be able to solve all your customers' problems easily and will even account for the reasons for your customers' anger at your company and the reasons for their displeasure, chatbot is able to determine the cause of the problem, offer solutions, satisfy the customer, and eventually extract reports and analysis so that you can identify and treat weaknesses in the future.
5- Receiving orders
With Conversation Robot, you can receive all orders or subscription requests for services provided by your company or organization, recording all customer data, and providing all the answers your customers need about products from different photos, prices, and details, until the order is registered and sent to the company.
6- Convincing customers
It is one of the most difficult tasks that this smart assistant can do, he can follow your customers and the process of attracting your company, from dividing and targeting customers, through the presentation of services and products and answering all their questions and inquiries about them, to convincing them to buy or participate in your company's services, to transferring them from potential customers to real customers.
7- Follow-up sales
You can now follow all sales that have been made or are still under inspection since the customer's order was registered, inventory is reviewed, the product is shipped or subscribed to the service, and customers' reaction to products and services is followed up, while providing after-sales services, thereby enhancing, and improving the customer experience.
8- Marketing campaign management
It allows you to fully manage your marketing campaigns on all your social media accounts, by receiving all your customers' messages and inquiries, as well as receiving all feedback and messages from your customers, following them, and analyzing their results, so you will be able to improve and shape the campaign in proportion to your target audience in the future.
These are some of the 2021 chatbots uses that will help you communicate with your customers with ease and at the lowest possible cost, so if you want to learn more about how to improve the performance of your marketing campaigns, and how to succeed in winning new customers, feel free to contact us for your free consultation now.