What's the difference between VOIP headsets? Which is better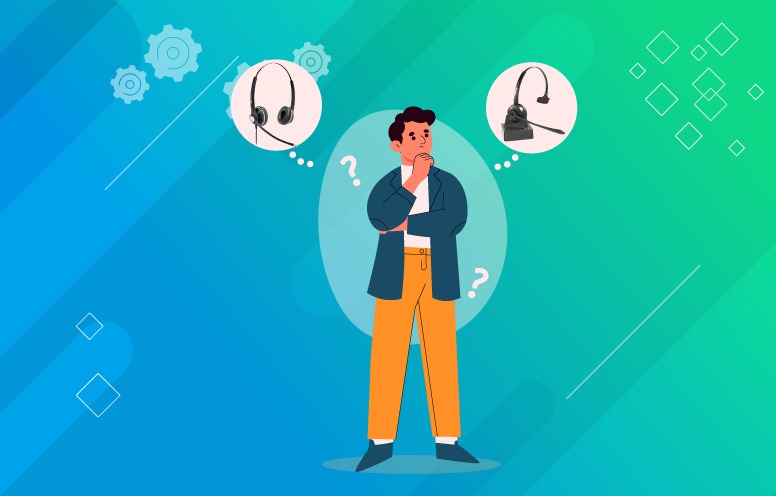 What's the difference between VOIP headsets? Which is better
What's the difference between VOIP headsets? Which is better
Wired and Wireless headsets are one of the best VOIP devices that help companies communicate with their customers in the best quality, provided by Bevatel at the best prices in the Saudi market.
All call centers in any company, whether giant or emerging, no matter how large their customers or the type of business, desperately need means of communication to help them communicate easily with their customers, they need a range of devices that receive, direct and even organize calls, and many telecommunications companies years ago searched for the best way to enable them to transmit sound easily, and how to achieve effective communication between long distances and high quality, until these companies reached For the latest communication and network technologies for what is known as VOIP devices.
VoIP devices are the product of the modern communications revolution that the current era has brought us, they are a collection of smart devices designed with modern technology and based on advanced technologies and methods, they are devices based on VOIP technology to facilitate communication between companies and their customers at the lowest cost, where these products are known as VOIP devices, and in the following article we will address the most important of these devices, which is known as headsets to know their usefulness and types in detail, So don't miss that special article our dear readers!
What are VoIP devices? And how do these cutting-edge products work?
VOIP devices are smart devices that have helped companies get rid of all the barriers and problems of old means of communication, a set of equipment and devices that use voice transmission technology over the Internet or Ip, where all voice calls made by companies are connected through the Internet, and then several people from any company or between organizations and their customers are connected simultaneously through these devices through their network connection The Internet, devices specifically designed to achieve uninterrupted connectivity of the best quality.
Many wonders how these devices work! These products operate according to very smooth and balanced processes, where VOIP technology converts voice signals or what is known as Analog Signals from a phone that sends the signal or communicates to Digital Signals, and then compresses those digital signals and divide them into several groups of packages, and internet voice transmission products rely on the use of digital signals. The Internet sends those signals that have already been compressed in several tracks across the same data network, and then those packets reach the phone that will receive from the sender on the other side, and then those digital signals turn into sound signals.
There are many types of products where there are headphones, VOIP phones, Centrals, Gateways, and Conferencing Endpoints, and their functions vary to reach here the tool that helps us deliver the best quality and purity sound which is headphones or what is known as headsets, which we will address in detail in the next paragraph.
What are headphones or headsets? And what's its usefulness?
headsets are one of the most important devices that must be located in any call center in any company or organization that depends on communication between its employees and its customers, whether it is a startup or a business in its inception, or if it is one of the major brands, through the different characteristics and smart solutions provided by these devices to all companies help them achieve their goals whatever the type of business or size of its customers, we find that a large sector of Government and private institutions, clinics and hospitals in all their specialties, shipping companies, and logistics services, telecommunications companies and banks, travel, and tourism companies, stores, shops and many other business activities that need to communicate well with their customers.
The nature of the work of headsets, which is an essential product of VoIP devices based on VoIP technology, whose function is to carry out the sound transmission of the best quality and high purity, works to transmit voice signals to digital signals and vice versa, and many companies and organizations prefer headphones to achieve the comfort of their employees and achieve effective communication due to the following characteristics:
It has a strong and high quality
They may be wired or wireless headsets
It could be Bluetooth or without it
Supports Wi-Fi
Let's you control the volume
Suitable for making all kinds of calls
Equipped with a soft ear pad for maximum ear comfort
Can be worn for long periods without causing inconvenience
Fits different head sizes
Compatible with computers, smartphones, and other audio devices
Very sensitive in capturing near and precise sounds
Blocks and eliminates ambient noise
You may wonder what the difference between headsets, and which is better for your company or organization employees, in the next paragraph we will explain the types of headphones and the difference between them.
Type 1: Wired headsets
Headphones that use VoIP technology but are connected to a wire, characterized by sound quality and purity, the caller is not exposed to interruption or confusion, easy to operate and connect to any device, and it is easy to pair as quickly as possible, one of the most famous drawbacks is the inability to move but the staff is forced to hold on to one place and stick to one of the devices.
Type 2: Wireless headsets
Headphones that use VoIP technology but are not connected to any wires, and are one of the latest types of headsets where they are free to move anywhere, can pair with any device through Bluetooth and can be connected to any Wi-Fi network, but one of its most important drawbacks is jamming and lack of sound quality especially if the device is removed from the connected device, the sound automatically breaks, and may be exposed to problems such as difficulty pairing and operation, and from Its most famous drawback is battery and charging, as employees may have to charge it over and over again.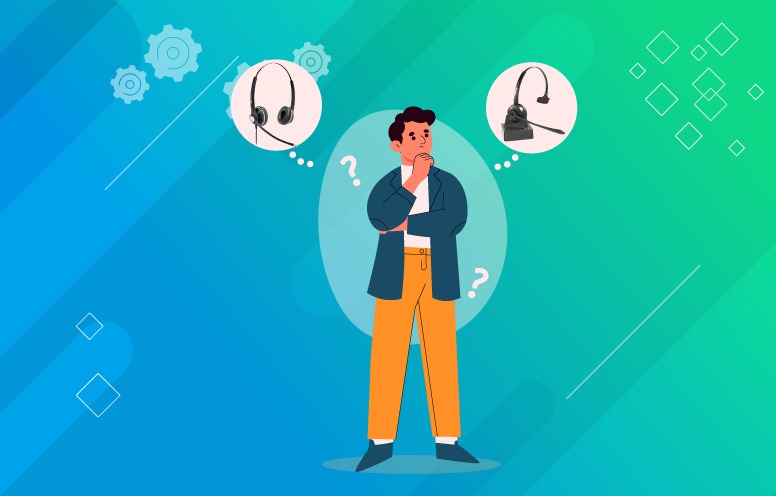 The best types of headsets for companies?!
There are a lot of types of headsets whether Wired or wireless, but your choice depends on the purpose you need from those devices, and the quality of those devices, so if you are looking for the best types of headsets that help you complete your tasks and communicate with ease, we will offer you a range of the latest headphones provided by Bevatel at the best prices and the strongest features that make it the first in the Saudi market, the most important of which is:
VT Wired headset VT3000 Mono ST
VT Wired headset VT8000 Duo UNC
VT Wireless Bluetooth VT9500 Binaural
VT Wireless Bluetooth Headset VT9600
VT Wired headset VT7000 Duo UNC
VT Wired headset VT5000 Mono UNC