How can you use VOIP Devices and products to communicate better?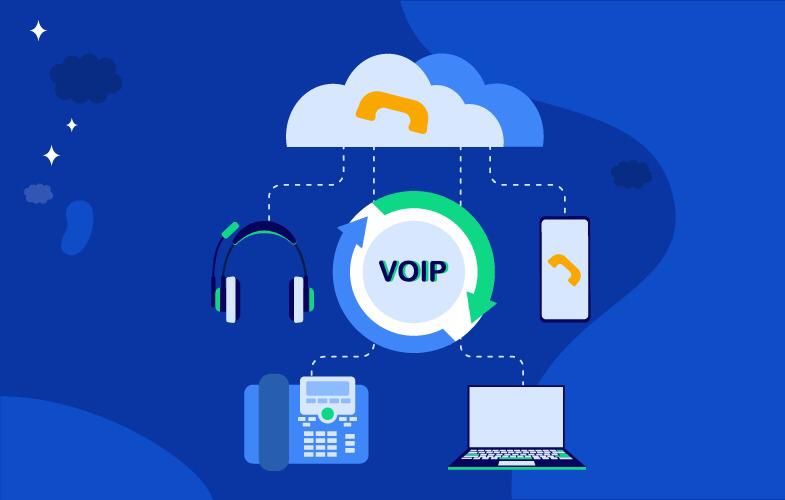 How can you use VOIP Devices and products to communicate better?
How can you use VOIP Devices and products to communicate better?
If what you're looking for is the quality of communication, and not interrupting it with your customers, VOIP Devices and products are the perfect solutions for you, it is one of the modern technological means that emerged not long ago, and was one of the devices that played a big role in improving the process of communication between companies and their customers, and has had a significant impact in reducing costs due to their appropriate price.
With these devices, there are no longer limits to distances, time, or even costs, as these devices arrive anywhere inside or outside Saudi Arabia, and enable you to communicate at any time at the lowest possible cost, and if you want to know what these devices are and their features, in the following article Bevatel, will display everything you need to know about VOIP Devices and products, keep reading.
Article elements
What are VOIP Devices and products?
Why are VOIP Devices and products distinct from a landline?
What kinds of IP voice products and their features?

1. What are VOIP Devices and products?
It is a group of devices that operate with the technology of voice transfer over the Internet, it is one of the modern means that emerged around 1995 to make new noise in the traditional world of communications, through these devices voice calls are connected through the Internet, and therefore several people are communicated at the same time through those devices while they are connected to the Internet.
Products of Voice over the internet protocol have overcome all the barriers faced by companies that have been relying on traditional means of communication such as landlines, and have moved the communication process to the highest level of development, allowing you features and solutions to help you achieve the best communication, in addition to its relatively low cost compared to traditional means.
These devices work in a complex way, but in fact, the phenomenon of the user is a very simple process, where users see this simple process of making easy and quick communication with their customers, through those devices via their internet connection immediately, and if you wonder about the distinction of these devices and products on traditional means, in the next paragraph we will offer you a quick comparison between   VOIP Devices and products and between landlines, do not miss them!

2. Why are VOIP Devices and products distinct from a landline?
These devices are a necessary condition for achieving any communication! No company does not deal with any customers! Rather, the basis for the success of any company and the source of basic income is the purchase of the company's products by customers or their subscription to its services, so companies seek to take care of the customer and achieve the best communication with him and unhindered, as Products of Voice over the internet protocol have a range of characteristics and have a lot of solutions that we may not find in any old traditional means as if they appeared to solve the problems of the old with all that is new and modern, to feel the perfect communication experience with your customers everywhere.
All of these products are characterized by the old generation of devices and landlines, where their advantages have become an essential element for a large sector of companies and are used in the government and private sectors, banks, real estate, shipping companies, and logistics services, and do not forget their great role in factories, hospitals, telecommunications companies and many more.
We can present some of the drawbacks that hindered the process of communication with the old means, which the IP voice products succeeded in overcoming deservedly, the most important of which are:
a) High costs
b) Difficult communicating
c) lack of privacy
d) difficulty to use
a) High costs
We find that the costs of landlines are very high whether the cost of customer communication or costs on the company itself, especially if calls between the company and its customers are international, compared to VOIP smart devices we will find that the cost is much lower than by any normal means, it depends on the internet connection, which allows customers and service providers to communicate quickly and at the lowest cost.
b) Difficult communicating
Since the old devices do not have the advantage of flexibility or ease, they require presence in a certain place and require communication with certain equipment must be located at both parties, and some old devices are limited to certain geographical areas, which hinders communication more, while we find that online audio transmission devices help you to achieve flexible communication with ease, not only will the work be limited to the headquarters of the company, through VOIP Devices and products you will be able to contact your customers and employees from anywhere and even communicate with your customers from inside and outside Saudi Arabia with flexibility.
c) lack of privacy
One of the major drawbacks of old and traditional means is the problem of insecurity, we may find that in the past there were many gaps in these systems, which may lead to their penetration, and thus leak important information about the company's secrets or the data of its employees and customers, contrary to the security and complete privacy VOIP Devices and products offer us, where communication is made over the Internet and those conversations are encoded, and therefore difficult to penetrate or even access.
d) difficulty to use
One of the problems that have been bothering many business owners is the problem of difficulty installing and operating, many traditional methods are complex to use, and even difficult to install and operate, which requires technicians or engineers specialized in some of these means, and requires continuous maintenance, contrary to the ease-of-use VOIP Devices and products offer us, and the simplicity of installation and operation.
These were simple profiles of the flaws of the old methods, which were overcome by the devices of voice communications over the Internet with its features and solutions innumerable, where it has specifications that made it the first choice for a large sector of companies, and even became one of the basic means that companies are desperate to get and develop them constantly, and in the next paragraph we will talk about the types of those devices and some of their advantages.
3. What kinds of IP voice products and their features?
Bevatel offers you a range of smart devices, which have many features and characteristics despite their different types, each type of tasks it performs, as well as great solutions it provides, and we will mention the most important types of Products of Voice over the internet protocol at the following points:
1- Headsets
They are devices that transmit sound in the best quality and high purity, may be wired or wireless, and even have the comfort and durability of your employees, for the comfort of your employees as well.
2- IP phones
It's the perfect alternative to landlines, allowing you to connect between company employees, or communicate externally with customers and other callers.
3- Pbx
It is one of the smartest remote communication systems, it is a network central that are a cabin connected to IP that allows conference calls to be made and talk without expenses, through VOIP and call center can be activated as well, and several branches can be connected via the Internet.
There are many other types of VOIP Devices and products such as Gateways or Conferencing Endpoint, which Bevatel offers you with different specifications as you wish and what your business needs, so feel free to communicate with us now.