The complete guide to creating CRM software at minimal cost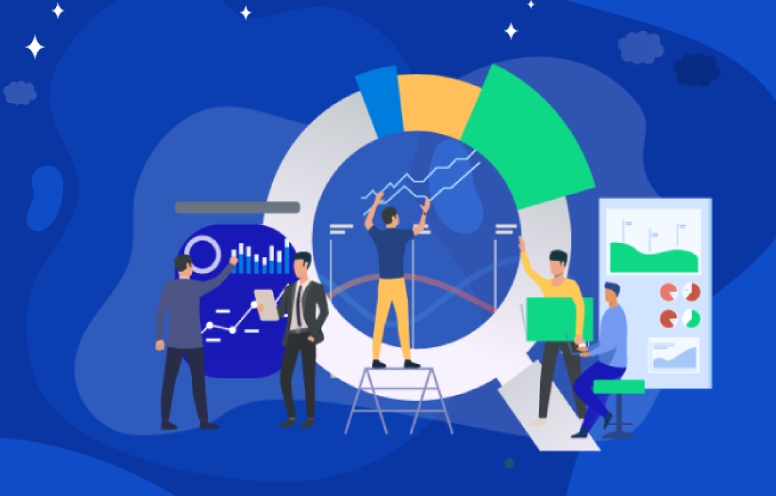 The complete guide to creating CRM software at minimal cost
The complete guide to creating CRM software at minimal cost
CRM software for customer relationship management has become one of the most important systems that no company is without.
Through it, you can effectively manage the relationship between you and your current and targeted clients.
The CRM software, that system that corporate and business owners desperately want, did you ask yourself what it is and what it's good for? 
If we look at the current era, companies are competing to have the customer choose them from among the thousands of companies on the market, all companies and institutions have the experience, a good team, and strong systems, but is that enough?
Unfortunately, dear reader, everything that has been mentioned will not distinguish your company, no matter how big it may be! What's going to make your company special is how you know what's on your client's mind. Who's your client? His tendencies, his needs, his complaints and his problems that your company is going to make a solution to convince him to choose you.
And maybe you're wondering how I know everything about my clients? How can you collect all the data on your clients, even analyze and classify it to extract organized material that will enable you to develop strategies and tactics to develop your products and services to your clients as they wish and request!
The answer is the CRM software or Customer Relationship Management System, a tool that has changed the direction of many companies and created new laws for corporate success to make a client a priority, so BEVATEL will offer you a complete guide in your hands to help you understand the CRM system and its importance to your company.
Article elements:
What's the CRM software?
Why companies choose CRM software?
What sections need CRM system?
CRM software features from BEVATEL

1- What's the CRM software?
The CRM software is an acronym for "Customer Relationship Management," which is an integrated set of modern technological tools and techniques for managing customer relations.
The purpose of the Customer Service System is to collect, analyze and manage all the data of clients of different companies, enterprises, or businesses, from recording and keeping their personal information through analysis of customer behavior to better experience existing clients and gain new clients.
CRM software aims at knowing your clients and identifying their needs, your interactions, your past dealings with them, and what they need in the future.
In essence, CRM software is a strategy that develops strong and real relationships with customers. The customer service system does so through informed customer experience, behavior, and feedback at every stage of a customer's journey in your company.
2- Why companies choose CRM software?
CRM software has become an important and necessary method for a company's success, in a period of increasing enterprise and business activities that concern themselves first and foremost with the client, where major companies compete to improve customer services and strengthen their customer relationship through a customer service system that provides companies with a complete and comprehensive database of your customers.
CRM software and the customer service program provide company managers with up-to-date customer information in real-time so that they can easily obtain up-to-date client data, analyses, and reports that help the company's marketing and sales team determine the client's basic requirements.
CRM system also helps to gather deeper client insights, needs, and requirements so that the team can better manage customer relationships while processing all the marketing tools, sales offer, and service that the client wants.
This makes all companies use CRM software or customer service system to maintain continuous and effective communication with customers and to simplify all communications processes on employees.
3- What sections need CRM system?
Some people might think CRM software is just for sales! But, a CRM system, or customer Relationship Management Program, has many benefits for all sections of the company, whatever their business activity.
The CRM program has become important for services, marketing, support, etc., providing anyone in the company at any stage of the client's journey with all information and data to take steps and decisions to strengthen customer relations and develop the business of the enterprise.
And when you get to this point, dear reader, we can answer the question that you've mostly asked yourself when you started reading this article, "What's the best CRM software that can help me manage my company's customer relationships?"
The answer to that question lies in BEVATEL Communications Solutions and CRM software, more than 15 years of experience in modern communications with services and solutions to reach your company for success not only at the local level but worldwide! On the following points, we will show you why companies choose the CRM software from BEVATEL and what features and characteristics we offer you.
4- CRM software features from BEVATEL
The CRM software of BEVATEL is not just a traditional customer relationship management program! It provides you with all the technologies and strategies to develop your relationship with your clients, solve their problems, increase your sales, and achieve better communication.
The CRM customer service system from BEVATEL is one of the newest and most powerful customer relationship management programs in Saudi Arabia, where it is a store for collecting and preserving all the data of your company's customers or business activities, whether sales, marketing, or customer support, and enables you to organize all the operations and all your customer affairs into a single platform. It can collect all the data from all the different means of communication for your company, which will help you communicate with your clients better and easier.
The CRM system from BEVATEL also has the advantage of being the latest CRM software in Saudi Arabia since it has a number of features that we mention to you in the following points:
Contacts Management
Fully Secured System
Prospective Customers Recognizing
Sales Process Follow-up
Easy internal connection
Permanent connection with customers
Connection Channels Merging
Customer Data Storing
SMS Service Integration
 Detailed Professional Reports
The CRM software from BEVATEL helps all companies manage their client contacts and incoming calls well and know all the details of the calls and the resulting calls.
B) Fully Secured System
BEVATEL's customer relationship management system is one of the safest CRM systems in Saudi Arabia because we provide it with a server and strong databases to keep your customers' data.
C) Prospective Customers Recognizing
One of the advantages of CRM software from BEVATEL is that it helps companies to analyze their potential clients and target them for their requirements and problems in transforming them into new and permanent corporate clients.
D) Sales Process Follow-up
Among the advantages of CRM software, BEVATEL provides the trajectory of sales from follow-up and co-service of the prospective client to contract and billing, so that it can be consulted as a document in case of any problems with the client.
E) Easy internal connection
The CRM software from BEVATEL provides an internal connection between company employees and managers in various sections of the enterprise, which helps managers to track the workflow and evaluate the performance of employees and the performance of the company as a whole.
F) Permanent connection with customers
All the client wants is constant and continuous communication with the company he is dealing with, and this is what the CRM software from BEVATEL achieves, where the CRM program allows the company to receive customer queries and complaints through a live chat room, email, or phone call.
G) Connection Channels Merging
The CRM software from BEVATEL allows your company to connect its communication channels to customers, whether through (softphone, e-mail, Chat Room) or otherwise.
H) Customer Data Storing
The CRM customer relationship management system from BEVATEL collects and records all your clients' data on professional databases, and keeps them within fully secure databases.
L) SMS Service Integration
The CRM System allows the companies to connect the SMS system, which helps your company implement SMS campaigns to reach all your customers anywhere at one pressure and easily.
M) Detailed Professional Reports
CRM software provides detailed reports and analyses of your company's customers about their queries and problems, to understand your clients more, and so the CRM system helps you develop sales and marketing strategies to gain customers and profits.
Those were some of the features of CRM software from BEVATEL, so if you want to try it and take advantage of all those smart solutions, don't hesitate to ask us now!