Best Call Center system for tourism companies in Saudi Arabia for 2021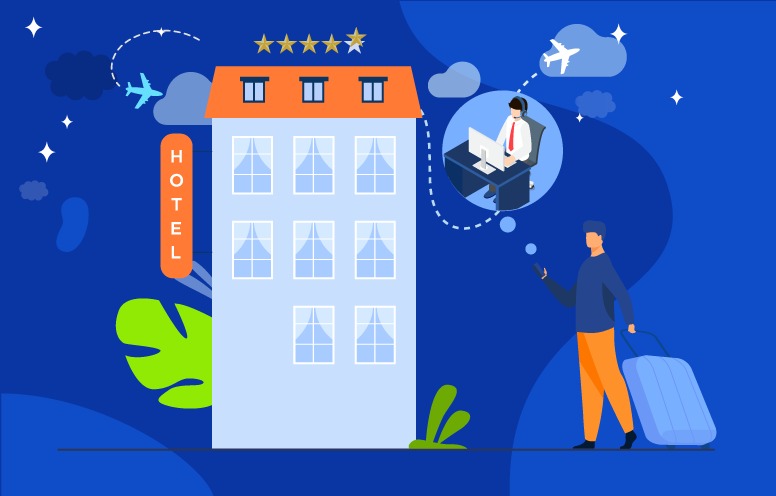 Best Call Center system for tourism companies in Saudi Arabia for 2021
Best Call Center system for tourism companies in Saudi Arabia for 2021
If we look at the number of travel and tourism companies in the Saudi and international market, we will see that their number is very large, may reach thousands of companies, and those companies are desperate to win the customer and to distinguish in front of him all the characteristics that he may need, and most importantly they need a strong way to earn customers well during that strong competition between tourism companies in different countries of the world.
The Call center system for tourism companies was the first and last way to succeed any booking and travel company, through the range of features provided by the call center to tour companies, and the ways it provides to track customers, attract them to the company and turn them into permanent customers, has become one of the most important ways that companies may resort if they ever want success like no other!
In the following article, we'll give you everything you might want to know about the Travel and Tourism companies Call center system to improve your company's quality and improve your performance!
Article elements
1.What's the Call Center system for tourism companies?
2.What's the importance of a Call Center system for tourism companies?
3.What are the features of the Communications center system for tourism companies?
Travel and tourism companies have always needed a system that helps them organize their dealings with customers, facilitate their access, as well as strengthen relations between the company and customers, which helps them gain their trust and belonging, which helps them achieve tremendous success in profits and sales, as well as ensuring their position among competitors, which is what most companies are looking for in the current era.
The Call center system for tourism companies helps to make all transactions and complete all sales and purchases and receives all incoming customer calls, whatever their purpose, whether booking tickets, inquiries, or complaints, as well as directing calls to customers such as alert calls and flight schedules, and even assisting in marketing campaigns for corporate offers, by offering tourism programs to customers in a variety of ways such as SMS, phone calls or e-mail.
The Travel and Tourism companies Call center system also organizes calls and follows customers, thus knowing their problems and needs, and implementing their requests to gain their trust, and in general, it is of great importance to companies and helps them to carry out all their operations and business easily, which we will explain in the next paragraph.
2.What's the importance of a Call Center system for tourism companies?
The customer is the first and most important priority for any company in the world, and to gain customer satisfaction and belonging you have to show him your interest in him, reassure him, and make him feel that it is one of your priorities! Especially in the field of travel and tourism, it is one of the areas that require companies to pay extra attention to their customers and implement their desires and demands, and here lies the secret of competition!
Through the Communications center system for tourism companies, you will be able to take care of your customers by contacting them and emailing them, and tracking all their problems to solve them quickly and easily, and you can identify all their requirements and needs to implement them and change the company's working methods to suit them and comfort them.
It is an easy and ideal tool that helps all domestic or foreign tourism companies to do all their work, from the presentation of their tourism programs and offers to the participation of customers with them, their preference for them, and their trust in them, hence the main factor for the success of that type of activities or companies is customer satisfaction.
In the next paragraph, we will give you our dear readers a glimpse of the real benefits you might have if you use the services of the Call center system for tourism companies.

3.What are the features of the Communications center system for tourism companies?
There are many advantages of Bevatel that may help a large segment of companies to improve their performance and work level, and we can limit the most important to some points: 
a) ease of communication 
b) continuous follow-up 
c) easy booking 
d) remote booking 
e) marketing campaigns 
f) transfer calls 
g) fewer costs
a) Ease of communication
Through the   Call center system for tourism companies, you will be able to communicate easy, fast, and superior with your customers without interruption, the system provides you with all the devices and equipment that guarantees you good connectivity, provides you a strong system with fully secure databases, so you will not worry about any penetration or interruption in communication, through Bevatel solutions you will be able to get a secure and continuous communication, as well as help you to communicate permanently with the rest of your branches to achieve the best level of service.
b) Continuous follow-up
It doesn't just make it easier to communicate with your customers and the rest of your branches! It helps you to continuously follow your customers and employees in different branches at the same time, you can through the call center system for travel and tourism companies to follow your customers anywhere, and at any time, it is an ideal system to track the wishes and needs of your customers, to identify and solve their problems as quickly and thus gain their trust, as well as to help you follow your employees to check the level of service provided by customer service representatives in different branches.
c) Easy booking
All customers and passengers want to book easily without any barriers, and a sense of security towards the company, through this system from Bevatel you will be able to provide a safe and easy service to your customers, without any problems or breakdowns, which will help you gain more customers and therefore more profits.
d) Remote booking
This smart system will help your customers book with ease from anywhere and at any time, by booking online remotely, there will be no more problems or obstacles.
e) Marketing campaigns
This system helps you to implement and manage marketing campaigns accurately and easily, you can now target your customers and track their wishes, then form the campaign to suit your customers and their needs, then launch the campaign through several channels provided by that system by phone calls, or by SMS or email, as well as help you follow the results of those campaigns, extract reports and performance analysis to modify campaigns if you need to.
f) Transfer calls
This is one of the most important features provided by that system, through which you will be able to transfer customer calls to the competent departments, for example, if the purpose of the call is to book a flight, then it will be transferred to the reservations department, and if the purpose of the call is to know the tourist programs will be transferred to the department of offers and so on, which is important to help solve the problems of customers and implement their wishes and requests with ease.
g) Fewer costs
This system saves you a lot of costs, you won't need any complicated equipment and devices, but you won't need maintenance costs, because the Call center system for tourism companies from Bevatel allows you to work remotely and at the lowest costs, with no cables and no crashes, it saves you a lot just to achieve the best communication and earn a lot of customers.

And you should know, dear reader, that the beginning of success begins with a step! We're not just offering you traditional Call Center systems, we're offering you the latest technology, all in your hands! Feel free to contact us now.