8 Golden Benefits of Call Center outsource Service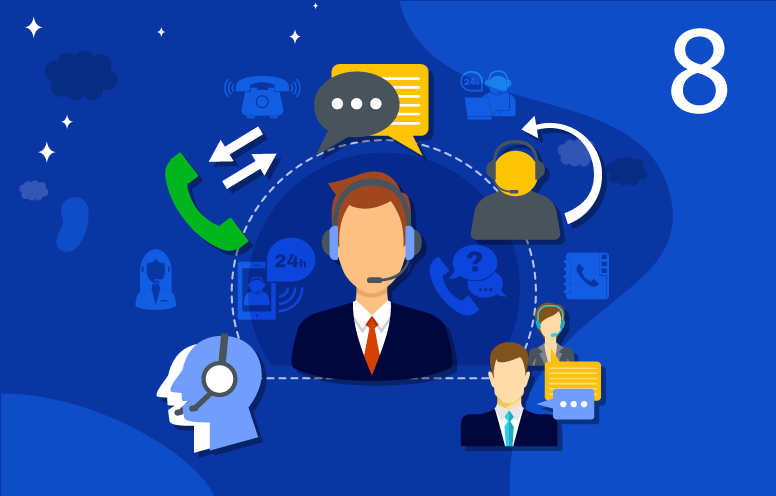 8 Golden Benefits of Call Center outsource Service
8 Golden Benefits of Call Center outsource Service
The Call Center outsource from BEVATEL helps companies get perfect call Center services, an expert team that specializes in responding to clients with professionalism.
Call Center outsourcing has become an important means of communication that many enterprises use to achieve effective communication with their customers. The requirement of having a headquarters within your company or dedicated hardware is no longer necessary, but with outsourcing call center, it's easier than before.
Now your company can use the Call Center outsource without any cost or equipment. Through the call center outsourcing service, all large or small companies can make effective communication with their customers and maintain continuous and professional communication through the advantages of Call Center outsourcing.
If you own a company and don't find the right place to hire and build a customer service department in your company, or you don't have time to train your employees! Don't think about those obstacles anymore. In the next article, BEVATEL will help you understand what Call outsource Service is and the best telecommuting services that will save you time and money and effort as well.
Article elements
What's Call Center outsource service?
Why do companies need call Center outsourcing services?
8 Golden Benefits of outsourcing call center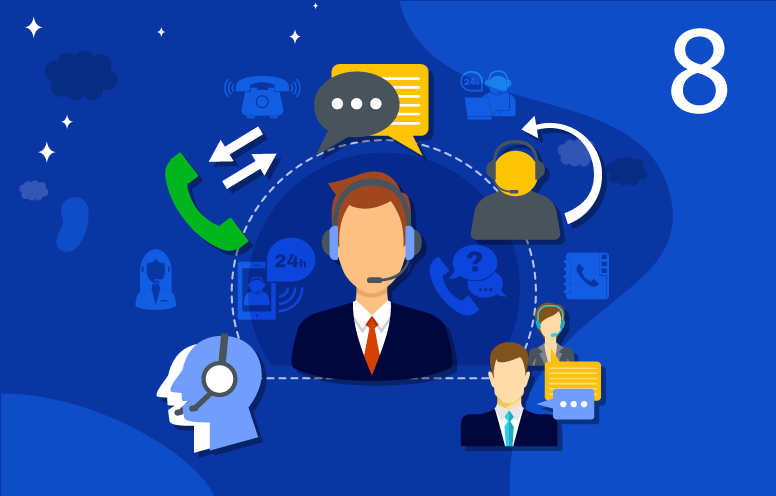 1- What's Call Center outsource service?
A Call Center outsource service is a designator whose names are multiple. It may be called an external Call Center, an outsourcing call center, or a remote operating service.
It is a service that allows companies to better communicate with their clients through a specialized team, trained in the highest degree of experience and professionalism to perform the job of responding to clients. Also provides you with a fully integrated system with all communication devices and smart customer data management systems.
Outsourcing call center is specifically designed to solve all the problems facing corporate managers, so today you can easily subscribe to call Center outsourcing service and have a trained team, a strong customer service system, modern hardware, and communication equipment, all without any effort and with less cost.
2- Why do companies need Call Center Outsourcing services?
Many enterprises use call center outsourcing services for many reasons, most notably because of the increased cost of building a call center system, if we look at it, there's a huge cost to creating a call Center system integrated with all the hardware and equipment that allows for good communication between employees and customers, and how your company will be equipped to combine all these devices, systems and networks in one place. Add the cost of staff to respond to your clients, Yeah, it's an endless expense.
And don't forget the need for high-quality service to get your clients' satisfaction, which requires huge resources, trained personnel, and strong systems to do such tasks, and that's what call Center outsource provides you with, now BEVATEL provides you with it at the best price and the strongest performance today. And we'll remind you of the 8 golden benefits of call center outsourcing services with BEVATEL.
3- 8 Golden Benefits of call Center outsource Service
"Every missed phone call is a missed opportunity, and vice versa!" As Steve Stowe put it, one of the biggest mistakes that a whole enterprise could takedown is to ignore or not care about the client, because the client was and will remain the priority of any successful company.
So BEVATEL offers you outsource call center, which will completely change the direction of your company, where BEVATEL offers you a range of features that make the Call Center outsourcing services one of the most powerful systems to ensure success of different businesses.
And we're going to show you Dear Reader 8 benefits and golden features of Call Center outsource service from BEVATEL:
Least Cost
Expert team
Performance analyses
Modern systems
Ongoing follow-up
Databases
Permanent communication
Quality and Safety
a- Least Cost
Call Center outsourcing service provides you with all the systems, equipment, personnel, and networks that provide you with the strongest communication with your clients at the lowest cost. You won't need the expenses of building Call Center systems at your company. You can reach your clients at no cost.

b- Expert team
By outsourcing Call Center, a trained and specialized team from BEVATEL will respond to your clients from anywhere in the world and at any time with the skill and professionalism to gain the trust of your clients and increase your sales.

c- Performance analyses
Through Call Center outsource service and remote operating services from BEVATEL, you will be able to analyze the performance of your employees and all incoming and outgoing calls and operations so that you can extract all the data and numbers that will help you develop strategies and plans for the future development of your company's business.
d- Modern systems
BEVATEL provides you with call Center outsource service with all call Center systems and CRM customer service software and their connectivity to the rest of the company's systems, so that you can create and build the most powerful outsourcing call Center system that provides your staff with all the information they need to serve ideal customers.

e- Ongoing follow-up
Call Center outsource service gives you a huge advantage to keep track by providing company managers with all the performance reports of Call Center employees, monitoring attendance and departure dates, staff commitment to their work periods, and the methods used to respond to clients.

Within call Center outsource service, BEVATEL provides you with strong and secure databases so that you can collect, record, and keep all customer information on databases that serve as a document you can return to at any time you want.
g- Permanent communication
In BEVATEL, we provide you with the possibility of working on holidays, Call Center outsource services, and telecommuting services provide you with regular 24-hour work periods, keeping in constant and uninterrupted contact with your clients.
K- Quality and Safety
The Call Center Outsource service from BEVATEL gives you fully secure systems and databases equipped with powerful and highly efficient surfers to keep your customers' data and company secrets.
If you're thinking about the importance of Call Center outsource service to your company, you need to know that it doesn't stop when there's some customer service staff who's answering your clients' calls. It's so big that it involves a process in which many systems and programs overlap, aimed at improving your relationship with and access to your clients more quickly, providing all the data and information that is of interest to your clients, such as their needs and requirements, so that you can identify their problems, compile their complaints and work them out with strategies and steps to develop what you offer your clients in the future.