Leveraging Chatbots & AI to Skyrocket Sales and Slash Expenses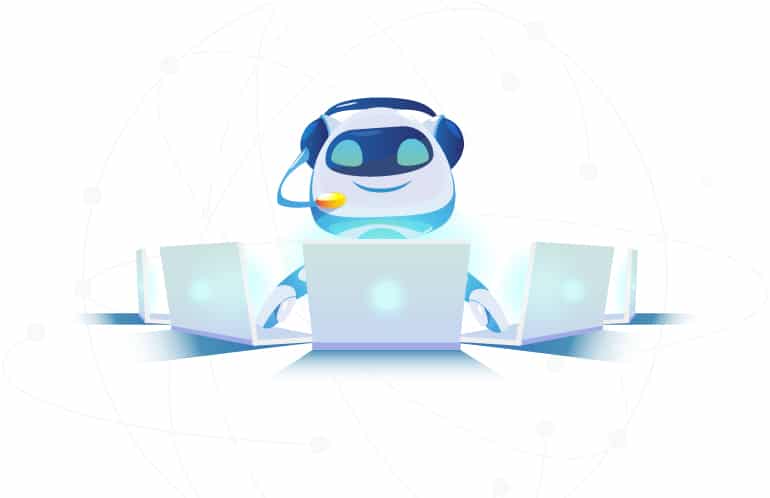 Leveraging Chatbots & AI to Skyrocket Sales and Slash Expenses
Bevatel Business Chatbots
Bevatel Business Chatbots are among the most renowned business solutions that rely on artificial intelligence to improve the performance of institutions and commercial activities.
Because of the ongoing technological growth, particularly since the release of a new and more powerful generation of artificial intelligence, many people have rushed to exploit this one-of-a-kind technology to improve and boost its sales.
Chatbot AI is a service Bevatel offers businesses and organizations to simplify customer communication and enhance the user experience by turning ordinary tasks into efficient automated services
This service enables institutions and businesses to communicate with customers around the clock, saving effort, and time and reducing errors and labor, so it can be used to respond to inquiries, requests, reservations, sales, and purchasing processes, providing technical support and data analysis at any time, whether during official working hours or otherwise.
In this article, we will explore in detail the importance of automated chats AI and how to use them to increase sales for companies in the Middle East.
Utilize chatbots to increase your company's sales
Bevatel Business Bot provides many benefits for companies as they help build strong customer relationships, improve customer service, and achieve marketing goals. Robots can also be used to monitor and analyze customer data for new insights. In addition, the cost of maintaining automated chats is low, providing significant benefits for companies.
Catch potential customers
Chatbots AI is an ideal way to attract visitors and convert them into potential customers by interacting with them, answering their inquiries, and providing the necessary information to convert them into actual customers.
Increase sales
Chatbots can increase sales by analyzing user behavior, offering appropriate deals and discounts, and improving the user's shopping experience by finding the desired products, easy payment, and shipping processes.
 Cost savings
Automated chats are an effective way to save costs associated with customer service, where the robot can perform repetitive and time-consuming tasks that can be turned into self-service online, thus allowing the company to reduce labor costs and improve efficiency.
Obtain customer insights
Collecting customer data is an effective way to develop your business, and chatbots can help you manage this data. 
Through the robot's conversations with customers, data can be collected about their needs and problems, which enables you to improve the customer experience and increase sales in the future.
Communicate with customers 24/7
Chatbot AI can work around the clock, making them capable of communicating with customers anytime.
 This means that customers will not have to wait for their queries to be answered, leading to an improved customer experience and more sales.
Provide multi-channel support
Automated chats can provide multi-channel support like email, text messaging, messaging apps, and social media sites. 
This means that customers can communicate with your business through their preferred channel, increasing the chances of converting them into repeat customers and achieving more sales.
Reduce Cart Abandonment Rates
Abandoned carts are highly frustrating to businesses. Customers browse through the site, select what they want, and add it to the cart, but before making the purchase, they disappear. Suddenly, what seemed like a specific sale vanished before their eyes.
Research shows that, on average, 68.8% of all carts are abandoned. In other words, nearly 7 out of 10 potential sales never materialize. There are multiple reasons why consumers abandon their carts. 
However, sales chatbots can help reduce cart abandonment rates by collecting visitors' contact details and sending follow-up emails encouraging customers to continue purchasing.
Additionally, chatbots can remind customers of the items in their cart and encourage them to complete the purchase during their next visit to the site. 
Studies show that these reminders have an 80% open rate (compared to 25% for abandoned cart recovery emails) and click-through rates up to ten times higher.
Reducing customer service costs
Chatbots AI is an effective tool for reducing customer service costs. 
They allow customers to get technical support and assistance anytime and anywhere without contacting a customer service center or waiting a long time to get the required help.
In addition, automated chats can work continuously, providing instant customer support at any time, which helps reduce the number of calls, emails, and tickets that require customer support.
Monitoring customer data for new insights
Automatic conversations can collect customer data and analytics that help you understand more details about customers' activities and what they need more. 
This can provide your business with many new insights and help improve the processes and services you provide.
Improving sales opportunities
Chatbots can also improve sales opportunities, as they can offer customers the right products and services based on their interests and actual needs.
 By giving customers immediate answers to their questions and needs, robots can motivate them to buy your products or services faster.
The chatbot AI service from Bevatel Business Chat is one of the most modern and effective technologies to improve customer service and increase company productivity.
 Advanced chatbot technologies allow for engaging more potential customers and responding to them individually.
It balances automation and human touch, enabling brands to offer seamless and interactive customer support. 
By integrating automated chats and live chat software, customers can benefit from self-service while connecting with a human agent when needed.
Although Bevatel Bot may sometimes struggle to understand user intent, it is essential to understand the difference between chatbots AI and live chat and try to integrate them to improve customer service.
In general, using Bevatel chatbot helps companies provide high-quality services and increase customer satisfaction, making it a practical option for your company.