Advantages of the unified number VS traditional numbers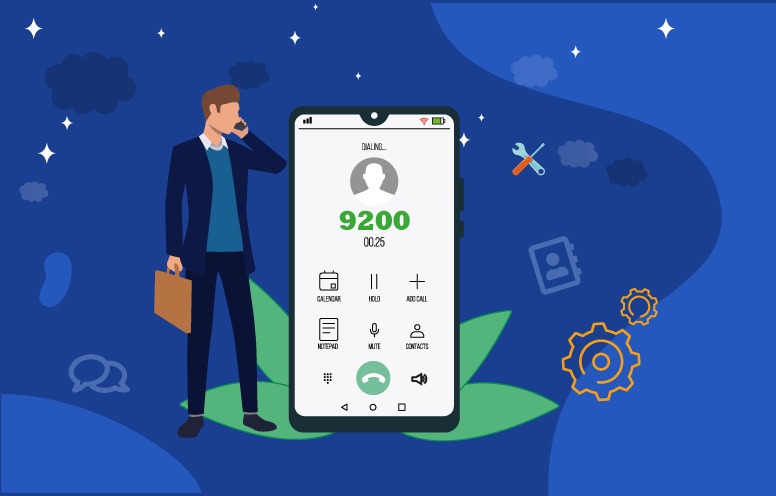 Advantages of the unified number VS traditional numbers
Advantages of the unified number VS traditional numbers
A unified number is a shortened number, that connects all branches of your company to one unique number, to facilitate customer access to you.
The unified number is one of the means that has emerged in the modern era, aimed at facilitating customer access to business owners and companies, also provides various channels through which entrepreneurs can gain as many customers and thus as many sales.
So, we see many companies rushing to the easiest, quickest, and least expensive way to satisfy customers and earn their affiliation, which has led them to abandon the old traditional methods that impede communication between them and their clients. The business market is expanding day by day, and the companies are countless, and to stand in front of all these companies, you have to win the client first. And you may be wondering how a single number will help you overcome the difficulties and problems of traditional numbers.
In the following article, BEVATEL will help you answer all the questions that you have in mind about the difference between a 9200 number and a traditional number and all their features and disadvantages.
Article elements
What's the unified number?
What are the flaws of traditional numbers?
which companies can buy a 9200 service?
 How can customers connect to the standard number?
What are the advantages of the unified number?

1- What's the unified number?
It's simply an abbreviated number, consisting of 9 digits and starting with 9200 number. That connects all branches of the company to one number so that customers can easily reach them. And it is unique and easy to remember so that customers can order it at any time.
Through it, the client can access any particular branch of the company or department by requesting this number. For example, if he or she wishes to communicate with the technical support section, he or she can contact that number. So that a customer's service representative can respond to it and transfer it to the relevant section of the client's query.
This allows the client to contact your company at any time, or even anywhere in the world, to gain more customers and build a huge mass base for your company.
If we look around the world's business market, millions of companies use the consolidated number for its great advantages and benefits, imagine that all your customers can contact you easily and smoothly from anywhere without any problems or obstacles to it, such as the high cost of international calls or whatever!
And in the next paragraph, we're going to show you the flaws and obstacles that your company will face if you don't change the traditional number system and the problems that it might cause you, so keep reading.
2- What are the flaws of traditional numbers?
The flaws of those numbers are numerous. like the high cost or the difficulty in getting your clients to you! The most important of these shortcomings will be mentioned in the following points:
a) It's hard for the client to remember all of your company's numbers because of the length and count of numbers.
b) It's difficult for clients to reach the department they want or the branch they want to go to, because each department or branch has its number, and no particular number would combine those numbers.
c) The high cost of calls to customers, as the call may be an international call from outside the Kingdom.
d) It's not possible to transfer calls, so assuming one of your clients calls the wrong branch and wants to talk to another branch. Then the client will have to call back or he can feel annoyed and never call back.
e) Traditional numbers may be either mobile numbers or landline numbers, which prevents your clients from contacting you if they do not have one of those means, either landline or mobile.
f) One of the most important problems with these numbers is the inability to make group calls either between customer service staff and your clients or between the team itself.
g) Some traditional numbers may be confined to the national area. That is, they only receive calls from within the kingdom, and they may not receive international calls from outside the kingdom, which causes companies to lose many customers.
h) Many of those numbers do not have a call recording feature. So managers cannot follow company business or assess the level of service provided by customer service representatives.

These are just some of the faults of traditional contact numbers, and as you can see, dear reader, these are obvious reasons why most companies have turned to the unified number, and we face here an important question: "What companies can buy that number!"
3- Which companies can buy a 9200 service?
In fact, any company, no matter how giant or even developing. No matter how many of its customers, millions of customers, or even dozens of customers. No matter what kind of business or development activity it is, whether it is a profit or non-profit organization or even a charitable organization. All need that service.
The largest telecom companies in the world have a Uniform number, hospitals and clinics, shipping companies and logistics services, schools and universities, shops and factories, real estate companies and warehouses, all of which are seeking to have a unified number, and that's what we find in successful companies and institutions.

4- How can customers connect to the standard number?
One of the most important questions on our mind is how can customers connect to that unified number? Is the process simple or complicated? Very simply, customers can access you through that service by calling your own 9-digit number, and then they may be answered by an auto-reply so that they can get flexibly what they want by pressing certain numbers.
For example, if a client wants to access a particular section, such as a complaint. He will press number 1, and he may reach out to a client service representative interested in his or her problem through simple steps.
And here we come to the most important paragraph that shows you the features and benefits that you will get when you have a unified number, and the characteristics that make it easier for you to work and your clients to access you.
5- What are the advantages of the unified number?
There are many features and innumerable benefits of the unified number of BEVATEL. All of which will be found at a competitive price only in BEVATEL, some of which will be mentioned in the following points:
Ease of communication

User Friendly Control

Connection between branches

Flexible Connection

Conference Calls

Calls Recording & Forwarding

IVR Feature

Performance Analysis
a) Ease of communication
BEVATEL provides you with a consolidated number with a landline for your company. Through which you can connect all branches and departments of your company to a single contact number so that your clients can communicate it at anytime and anywhere, either from inside or outside Saudi Arabia. easily and without interruption.
b) User Friendly Control
Where BEVATEL saves you time and effort. It allows you to have a simple and easy-to-use console with many tools that facilitate the work of the Customer Service Team and make it more structured.
c) Connection between branches
Through that Uniform number. You can connect all of your branches to it, and you can link it to CRM or softphone app and many other systems.
d) Flexible Connection
All your clients can now contact you via mobile whether Android, IOS, or via landline at any time, as well as from anywhere in and out of Saudi Arabia.
e) Conference Calls
Through that number. You can make group calls between a number of your employees or between employees and clients at the same time. maintaining constant communication with your clients.
g) Calls Recording & Forwarding
You can now record the calls so you can keep track of your company's operation. As well as analyze the performance of your employees and the quality of the customer response service and determine customer problems and requirements.
As well as transfer customer calls to the relevant section, to quickly solve customer problems and organize calls between the team.
h) IVR Feature
Your clients can query your company's services or products through pre-recorded voice messages. And they can find out everything about their accounts quickly, easily, and in very simple steps.
i) Performance Analysis
You can now monitor the performance of your employees and the quality of the service provided to clients. Extract detailed reports on the level of performance of all employees and evaluate all sections of the company.

These, my dear reader, are some of the endless benefits of the unified number, if you want to earn more customers and a lot of sales, feel free to communicate with us!