Bevatel Social Service features to improve the customer service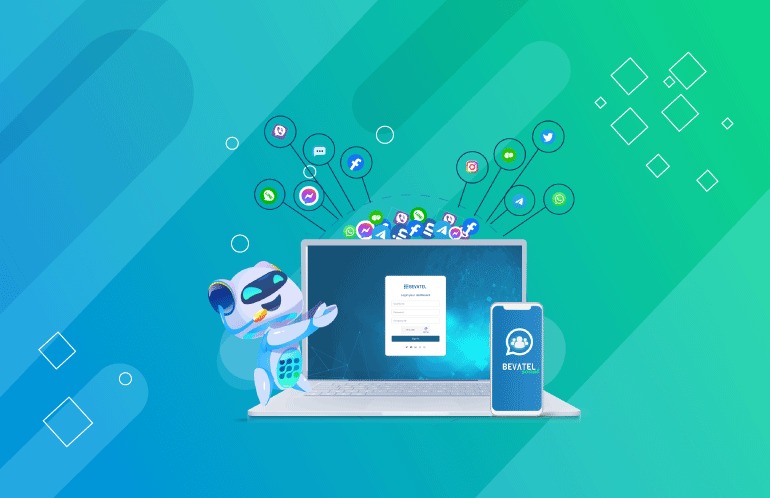 Bevatel Social Service features to improve the customer service
Bevatel Social service is one of the cloud call center services that establishments and businesses rely on to develop communication methods with customers and make them more professional.
Social media is the latest and most prominent communication mechanism indispensable to any business or organization that seeks to increase its sales and develop the performance of customer service and technical support that it provides to customers with multiple professional options and benefits.
Although institutions and commercial activities utilize the multiplicity of social media as essential methods of communicating with customers, this multiplicity causes the loss of some customer conversations due to customer service staff browsing the company's pages through social media and moving them between the various inboxes.
Therefore, the social media integration service from Bevatel is considered one of the professional solutions for establishments and commercial activities to receive all customer communications in one place and communicate with customers in new ways and more professional features.
In this article, we will learn about the benefits of integrating social media pages into one platform for all customer conversations; let's go.
What is Bevatel's Social service for integrating social media?
Social media linking service is a service provided by Bevatel to institutions and businesses to enable them to receive all customers' conversations through their pages on social media (WhatsApp Business, Messenger, Telegram, Instagram, Twitter, Line, .etc.) in a unified platform to receive all Customers chats with multiple professional features, tools, and options.
Bevatel provides this service as one of the cloud call center solutions to communicate with customers through customer service, technical support, and sales departments, with many advantages that do it an essential service for any organization or business.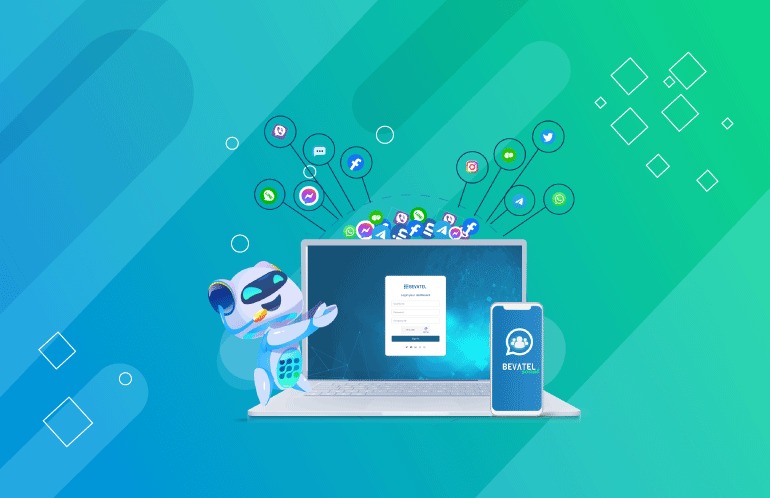 Bevatel Social Service Advantages
Bevatel provides this service with many advantages and options to develop communication methods with customers and other additional features to develop ways of using some social media.
We can briefly mention the most prominent advantages of Bevatel Social Media integrating into points as follows:-
Unified inbox for all customer conversations
Activate WhatsApp Business for your company
Unlimited automatic chats
Monitor your workflow through a unified platform
1- Unified inbox for all customers conversations
The most prominent feature of this service is that it provides you with a professional digital platform to receive all your customers' conversations across all the pages of your establishment or business through various social media.
Thus, the customer service staff can receive all your customers' conversations via Live Chat, WhatsApp Business, Twitter, E-mail, Messenger, and Instagram on one page showing the source of each message.
All your employees can access this platform at the same time.
And you can allocate message boxes for each department separately (sales, technical support, customer service).
Private in containing messages specific to a particular department (For example, the sales inbox includes all customer conversations about purchase orders, payments, reservations, and other details of the sales department only).
Or you can also create a custom message box for each employee separately to receive specific messages related to defined products, services, or requests.
We can briefly mention some of the advantages of the unified inbox from Bevatel in points as follows:-
The ability to manage and categorize contacts and customers with tags in groups and in the name of the service they subscribe to or inquire about (such as #cloud call center system #customer service management system)
Archive the history of social media conversations, webchats, and emails.
Create multiple roles (manager, supervisor, employee)
Create custom inboxes
2- Activate WhatsApp Business for your company
One of the most prominent advantages that Bevatel provides to establishments and commercial activities is activating and authenticating the WhatsApp Business API using the unified number 9200 of your organization or business.
Then all your employees can use your WhatsApp Business account simultaneously, from different mobile devices or computers and from anywhere, using the Bevatel Social platform.
This feature will help you reply to all your business conversations quickly and without missing any messages.
You can give access to each employee on the Bevatel Social platform and your company's WhatsApp Business account. And then, instead of one employee replying to your WhatsApp conversations, more than one employee can respond to your customers' conversations in real time.
4- Unlimited ChatBot
You can respond to customer inquiries, requests, and problems through your company's pages on social media through the unified Bevatel Social service for all your business conversations in one of two ways:-
Direct conversations with the relevant staff
Conversations and automatic responses to customer inquiries and requests
Chatbots are quick and short responses that you can enter into the platform to show the customer when he starts any conversation with you through one of your business pages on social media.
These are possible scenarios of different customer conversations across your establishment or business's social media pages.
for example:-
Customer: Hello
Bevatel: Welcome to Bevatel
Short messages (expected) appear to the caller: (Examples)
Can I listen to the Bevatel services?
Can I listen to the latest offers and discounts?
I want to talk with a sales representative
I want to contact a technical support staff
The customer chooses the appropriate message that he would like to send you and then responds with another auto message or if the customer wants to talk with an employee directly.
We can summarize the most prominent messages of automatic conversations in the following points:-
Welcome messages and greetings
Quick automatic responses to business inquiries
off-duty hours messages
Auto responses and messages for technical support, sales, or reservations
4- Track your workflow through a unified platform
From now on, you can track the workflow and performance of your establishment or business's sales, technical support, and customer service departments through a unified platform that includes all the conversations made and received by your employees for various purposes periodically with reports and reports, and analytics.
The Bevatel social service provides detailed reports and analyses of your business conversations across all social media, as well as access to each client's dealings and the messages that all your employees made.
Hence, the Bevatel Social platform helps you get a general and live overview of the workflow of your business departments, the responses of your customers, and the way they respond and interact with customers through your pages on all social media.
Additional benefits in the Bevatel Social service
Bevatel provides a service of integrating social media with unlimited advantages and options.
Adding an auto contact us button for your establishment or business website (contact us via WhatsApp, Messenger, Instagram, etc.)
The ability to connect the API with many other systems and business solutions, such as the CRM customer relationship management system and the cloud call center system
Ease of running via mobile (Android and IOS systems) and computer and from anywhere
Bevatel Social service is one of the most prominent and indispensable customer service solutions for the departments of marketing, sales, technical support, customer service, and reservations for all categories of establishments and commercial activities to develop the performance of their service and technical support, improve customer experience and even increase profits and sales.